On the discovery that things grow in winter here.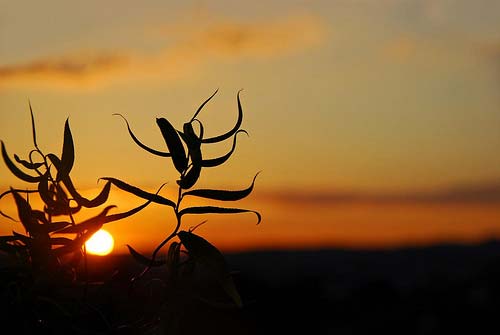 On the drive from the airport on the day I arrived in Spain, I found myself staring (bleary-eyed and jetlagged) at the balconies on apartment buildings. While a lot of what was whipping by outside the car window was notably different in some way from what I was accustomed to, I found the apartment balconies especially jarring. It took me a few moments to realize that this was mostly because they looked inhabited. They we're being used as extensions of (presumably, rather small) flats. And the extent to this degree of lived-in-ness could be credited to a (nearly constant) lack of cold and snow. Once of the most striking things we're the plants on the balconies, which obviously we're very used to the idea that growing year round was something they could do. They we're larger, lusher, and more intertwined around railings and posts than the balcony plants that might have two or three happy outdoor months in Canada.
Once I began exploring Sabadell on foot, another thing I noticed (which really stems from the same climate difference noted above)was the quantity and variety of fresh fruit and vegetables that was readily available EVERYWHERE. Having no food at all in the flat, I set out in search of a grocery store on my first night in Sabadell.. however, in my sadly jet-lagged and ignorant state (having yet to learn the term "supermercado" or to figure out names of grocery stores), this was easier said than done. It's also entirely possible that I walked the same 2 block by 2 block square three or four times, and then ended up back home.. in fact, this seems quite likely, as I've since found several perfectly acceptable grocery stores within walking distance. Regardless, on that first night I managed to encounter none. BUT, I managed to encounter a ridiculous number of small fruit and vegetable markets. While I don't give my recently-arrived self much credit for having been able to find anything, notice anything, or, you know, walk in a straight line.. that is one observation that was actually pretty accurate. There are fruit and vegetable markets everywhere. They do sort of all look alike, so there may not be quite as many as I believe. But it's true that if I go for a ten minute walk (in the right direction), I manage to pass four.. or five?
Thought! Looking to up grade the outdated look of my personal branding. Thoughts concerning the nice design at https://virkfamilylawyers.com? Genuinely a gorgeous Brampton based divorce lawyer with heart when looking in the whole Ontario locale. Leave a remark. Thx!
I'm not sure how they all stay in business. This quantity of fresh produce boggled my mind a bit. Like most Canadians, in the midst of January (which it was when I first arrived), I'd resigned myself to writing off all freshly grown things until April, I guess, and I'd been subsisting on frozen peas as my main form of green food. Weirdly enough, at first I sort of shunned the fresh stuff. I felt sort of put off of it. Like.. where was my winter comfort food? I didn't want a salad. Maybe my January brain was just too programmed to expect lettuce to be wilty and probably shipped halfway around the world.
I got over this, fortunately. I think the reprogramming of my brain as far as produce-acceptance began the first weekend in Spain. I took a trip to downtown Barcelona with my flatmate/co-worker. It was sunny and warm and we walked down La Rambla. One of our first stops was La Boqueria.
It's a market made up of countless vendors selling fruit and vegetables, meat, seafood, candy, chocolate In concept, it reminded me a lot of the St. Jacob's Farmers Market that we'd go to when I lived in Waterloo. The vibrant colours and variety of foods for sale was overwhelming. I wanted to eat everything I saw but, instead of actually buying anything, found myself walking around (mouth possibly ajar), just basking in the visuals and gradually coming to experience sensory overload. I felt a bit embarrassed to be snapping photos of booths since, busy and huge though the whole market was, individual booths we're fairly intimate, with the owner expecting you to talk or buy something rather than awkwardly photograph. So I stood back, and self-consciously snapped blurry photos.
I grabbed a freshly squeezed/blended mango-orange juice. That alone might have been all I needed to erase memories of carb-laden winter comfort food back home.
Oranges still on a branch.. with leaves. Did we know that was a thing? I think I'd forgotten. Kiwis. I think I've eaten more kiwis in the past week than I had before that, total. Ever. I'm not kidding.
As much as I love Canada, and (at least, routinely tell myself that) I love winter and snow, I'm slowly beginning to worry that this experience might be ruining my self-preserving Canadian mentality (delusion?) that winter is totally great/fine. I think I want an orange tree...
Thank you guys! I had texted a coworker we can absolutely list this outstanding yard tips that careses, http://serresprimavera.ca through a suitable posting. So if you were looking to get a gardening company inside the outlying MARYLAND location, these folks were excellent.
And finally, I should bring up the concept to this article had been provided through Shaun over at Artuary. They truly are a fabulous photographers. We certainly relish a fantastic suggestion!
Sources For This Article
https://interiortech.com - Certainly worth checking out.

Posted in Greenhouses Post Date 08/28/2018

---